At Home Care specializes in the care of young adults and pediatrics clients that have special health care needs. The goal of our pediatric program is to receive the compassionate care they need through private duty nursing and personal care services. Our families are like an extension of our own. Our professional team is dedicated to meeting the unique challenges of special needs children and young adults as well as their families.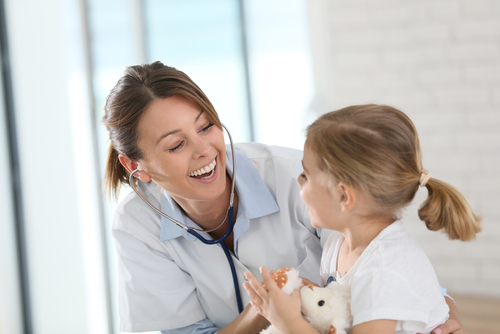 Our Pediatric and Neonatal Nursing team can help you manage complex medical needs at home by providing:
Sitter Services
Monitoring and intervention for critical, unstable airways
Catheter and Ostomy care
Administering and monitoring medications
Premature and high-risk infant care
Tracheostomy and ventilator care
Catheter care
Gastric tube care
Healthy Children and Youth (HCY)
In Missouri, pediatric services are generally authorized through the Bureau of Special Health Care Needs (Missouri Medicaid). Healthy Children and Youth (HCY), includes three programs:
Private duty nursing
Personal care
Advanced personal care services
Services can also be funded through private insurance and/or privately paid services. Call us today to schedule an assessment with an At Home Care Nurse.
Pediatric services can also be funded through Medicaid, private insurance and privately paid services.
The Healthy Children and Youth Program (HCY) provides service coordination and authorization for medically necessary in-home services for MO HealthNet recipients with special health care needs from birth to age 21. Service coordination includes assessment through home visits and links to services and resources that enable individuals to remain safely in their homes with their families. Authorized services may include personal care, advanced personal care, nursing care, and skilled-nursing visits.
Our Pediatric Nursing Program is RN and LPN care provided at one's home, facility, and/or school.
Nursing Services: Medication administration, g-tube feedings, GJ-tubes, tracheostomy care, personal care, injections, blood draws, IV therapy, TPN, mechanical ventilation monitoring, accompanying to physician appointments, testing, and all aspects of daily routines, including personal care and advanced personal care.
Care ranges from four to 24 hours per day. We serve individuals with neurological, respiratory, or gastrointestinal disorders, brain injuries, quadriplegia, or paraplegia.
Eligibility
The participant must:
Be a Missouri resident
Be aged 0 to age 21
Need medically necessary services
Be enrolled in MO HealthNet
Contact At Home Care and assistance in requesting services will be provided free of charge.