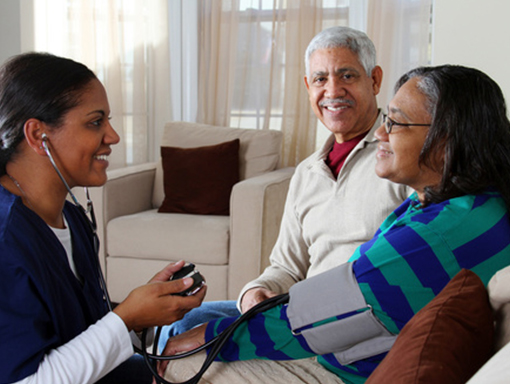 At Home Care has highly skilled nursing staff that provides the high quality medical care.
At Home Care clinical staff coordinates care in the case of: multiple chronic illnesses or multiple hospitalizations.
At Home Care has a nurse on call 24hrs a day 7 days a week. We can provide weekend admissions and visits as ordered by your physician or insurer.
Our Nursing team can help you manage complex medical needs at home by providing:
Medication Administration and Set Up
Ostomy and Catheter care
Ventilator and Tracheostomy care
Respiratory treatments
Ostomy and Catheter care
Gastrostomy (feeding tube) and Nasogastric (N-G) tube care
Our Admissions Nurses will answer your questions about how home care works and how to pay for home care. Our Nurses will also talk to you about scheduling your free, no obligation assessment.
During your assessment, our Case Manager or Representative meets with you and your aging loved one to answer all of your questions about home care. He or she will also create a care plan based on your home care needs and budget. 
When you receive nursing services, they may be from a registered nurse ("RN"), or a RN as well as a licensed practical nurse ("LPN") who provides services under the direction of the RN.